Breastfeeding Review
Peer Reviewed Professional Journal
Breastfeeding Review is the peer reviewed professional journal of the Australian Breastfeeding Association (ABA) and is distributed three times per year, in March, July and November.
You can receive Breastfeeding Review and a host of other benefits for health professionals by becoming an ABA professional member here. Alternatively, you can subscribe to the journal alone here.
Breastfeeding Review publishes articles and information on human lactation and its management, including original research papers, scientific findings, case studies, articles on social and ethical aspects of lactation, reviews and letters. The submission of papers and articles is welcomed; all are subject to peer review.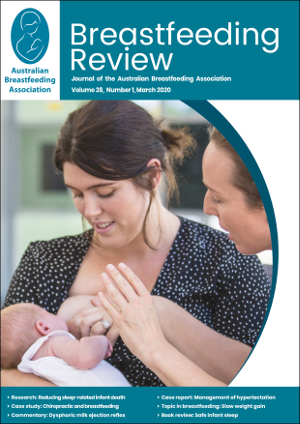 Breastfeeding Review Journal
An essential addition to all medical, research and health centre libraries
Contains specialised information to keep medical, nursing and allied health professionals up to date with current developments and findings in research on lactation
Provides the major Australian avenue for researchers to publish their work on lactation
Published three times a year, in March, July and November
Breastfeeding Review is indexed in the major scientific, nursing and medical databases including:

CINAHL Complete
CINAHL Plus with Full Text
EBSCO
Informit, and
ProQuest

Breastfeeding Review welcomes the submission of original research papers and articles on human lactation and breastfeeding management, as well as commentaries on recent research, clinical comments, case studies, reviews and letters.